Welcome to our Website !
We are a technology-based company, since 2000 specializing in the field of industrial automation. We design, create and develop control systems for industrial machinery and process installations, as well as we carry out service and maintenance of various industrial installations.
Furthermore, we offer a wide selection of components.
Please familiarize yourself with our offer!
Components
At the very beginning of our activity, we focused mainly on selling automation-related components and devices, as well as on completing deliveries. Gained experience and trained cadre allowed us to begin cooperation with numerous companies – production plants, machine producers and system integrators. Owing to it, now we are able to provide you with tested products and solutions, as well as assist you on each stage of the application's life cycle.
We try our best to offer top quality products and services. We also eagerly share our experience and knowledge on numerous conferences, workshops, and trainings.
Our product offer includes the wide range of industrial automation products: sensors, safety components, signal processing devices, switching and protection devices, relays, process instrumentation, drives, panels and controllers.
Applications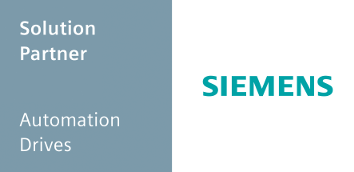 The company's rapid development contributed to the creation of application department. It is being created by a group of energetic, educated people, who effectively manage to combine their passion with work. Our applications have been working successfully since 2002. We execute our projects with the use of high-quality components and latest technology.
As Siemens Solution Partner we offer our full support in Totally Integrated Automation technology, PLC Simatic Controllers, HMI panels, and SCADA system.
We closely cooperate with machine producers and technology providers. We use our knowledge and experience while setting up applications in various types of industries: food industry, beverages, dairy industry, fruit processing, pharmacy, waters and wastewaters, chemical industry and process installations.
Our byword is creating long-lasting and solid relations with customers. Notwithstanding, our experienced staff is able to service and maintain a vast spectrum of machines and devices.
Electronics
Established in 2015 SITANIEC brand is responsible for the development of electronic products dedicated to automation systems. By integrating control systems, we got to know specific needs of automation sectors. Being so, we are able to fully adapt our solutions – depending on customers' requirements and location.
Our devices cooperate with the majority of control systems available on the market. We use standard communication protocols in order these to work with PLC and master systems.
Our latest product is System 10 – ten system! . It is a I/O industry system operating on digital and analog signals. Modules can work individually, or in a group, creating in the same time a multi-element system, able to face even the roughest challenges.
For more information about the product, please visit: www.sitaniec.pl

Machines
Facing current needs of our customers, we have created a mechanical department along with design office. We create machines fully adapted to all customers' needs. We specialize ourselves in automatizing production processes, technological lines, and robotic solutions.
We offer a complex realization of projects on all stages of their development. We are able to effectively design, develop and maintain all machinery solutions.
For more information, please visit: www.s-machines.pl
Technological HUB
The idea of a technological hub is to provide the space for work and cooperation for all parties with a technological background. It is widely known that it is best to work with someone, whom we can see and talk to. Having this in mind, HUB is a perfect place for intensifying cooperation. We combine skills related to new tech, IT, automation, robotics, energetics and mechanics.
At present in the HUB there are eight companies:
Sitaniec Technology
SITANIEC
S-MACHINES
Elektromontaż Lublin
Ultramoto
UM Project
Agtel
Ascensor
Contact
Tel/Fax:
+48 84 638 43 28
+48 84 638 43 13
Address
Jana Kilińskiego 86
22-400 Zamość